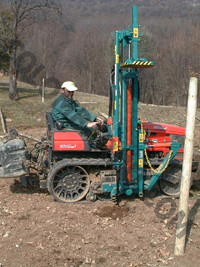 LATERAL POLE DRIVER MOD. RAMBO L
The lateral pole driver is used for the trellising of vineyards, orchards, etc. located on slopes or on flat ground. The Rambo L machine has been designed to work in any situation. The machine is mounted on the side of any tractor with tracks or not. Its position at the centre-side allows its use on untilled soil without any danger for the tractor to lift.
The standard frame allows operating on poles with the minimum height of 2 meters up to 3.2 meters. The heights required can be reached with the substitution of the tool-holding plate.
The machine is used also to remove old or worn poles
The machine is equipped with hydraulic operation system for slewing, left-right inclination, pressing, and extraction.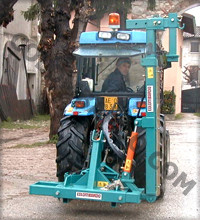 Rear-lateral pole driver "Rambo RL model"
Universal 3 point connection. Adjustable pressing plate. Connection for the pole  extraction chain. Hoister blocking brackets.
Hydraulic operation through 3 double-effct jacks:
- slewing jack
- inclination jack
- central pressing jack
On demand hydraulic side-shift function.
Production capacity 120/150 poles/hour.
For further information you can download the complete catalogue of the Pole Drivers
Piantapali Laterale e Retrolaterale
SKMBT_C25316040811060.pdf
Documento Adobe Acrobat
1.1 MB