OUR HISTORY
Mauro Colombardo started his business as a manufacturer in 1978. At the beginning he produced enological equipments, four years later he decided to change and focus his business on vine-growing equipments, and in this sector he could acquire high standards of specialization in a short time.
The first product of the new range was a trimmer designed in cooperation with CNR (Research Center) of Turin (Terra e Vita suppl. n. 3/99)
ABOUT US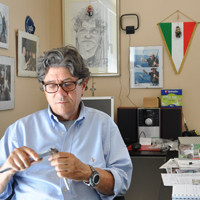 Our efforts are aimed at constantly improving the equipments and therefore the quality of life of those who work in the country. 
We are always working with the objective of reducing the noise to the minimum and protecting the health of those who sweat every day in the vineyards facilitating their work. 
Currently the export turnover is about 20% of the total turnover and this figure depends on our decision to focus on the home market since very often a machine needs being optimized according to the characteristics of the land where it is used and rapid interventions can be guaranteed only in our Country.
Company's target:
- maintaining the artisanal dimensions to have a personal relationship with the customers  
- designing and manufacturing in our factory our equipments and following the machines in the after sales period  
-  seeking contacts participating to exhibitions and meetings of our sector
- proposing ourselves as a reliable partner for the marketing on exclusive basis of the best Italian and foreign brands  
Come and visit our factory … here you can see all equipments of ours directly   
Colombardo Srl
Reg. Leiso, 30
14050 San Marzano Oliveto  (AT)
Tel. 0141/856108     
P.Iva/C.F.  01656560057      colombardosrl@pec.it