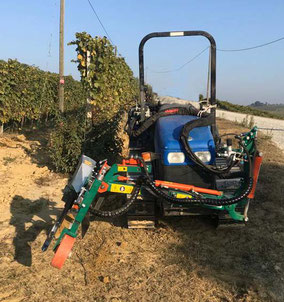 "COMPAS-EXTREME21"  FRONT TOOLS HOLDING FRAMEWORK  
PATENT FILED 2021
Main Features:
 

Extremely Compact

Very Small Overall Dimensions

Remarkable Weight Reduction Yet Maintaining The Same Sturdiness
Its Important Feature Is The Extremely Simple Construction.  The Framework Can Bear Various Tools Normally Used For The Management Of The Seasonal Weeds Under The Rows Of Vineyards, Orchards, Etc.
Hydraulic Interceps With Blade/Knife (300 550 Mm ) Rapid Lam With Depth Levelling Wheel, Hydraulic Mower Turbo Bas Eco 2000 Model, Hydraulic Shoot Remover Rotoflex Model And Many More Accessories, Such As Star/Kult, Rotary Star Tiller,  Disc    For Root Baring And Covering, Etc
The Compas Extreme21 Frontal Tools Holding Framework Will Enable Operating Under Safety Conditions Since It Protects The Operator From Physical Dangers Due To The Posture As It Normally Happens While Using Rear Tools Holders On Hoists Of Tractors: In Fact, This Tools Holding Framework Will Be Mounted On The Front Of Common Tractors Currently Used By Means Of Specific Anchoring Plates  
Besides The Comfort And Safety For The Operator, This Will Ensure An Optimal Visual For More Efficiency While Using The Various Tools And A Remarkable Reduction Of The H/H Labour Costs.
The "Compas-Extreme21" Framework Is Equipped With Three Hydraulic Movements, Plus The Tool On/Off Control:
About 130° Rotation, Which Enable A Rapid Exit Manoeuver At The End Of The Working Cycle And The Same Rapidity In The Positioning Manoeuver At The Beginning Of The Working Cycle; 

The Hydraulic Double-Effect Control With Floating Device With The Aisd Of A Mechanically Depth Regualtion Wheel Will Enable Maintaining  The Correct Working Depth  For The Whole Working Cycle, Without Having To Modify Its Position

Lateral Hydraulic Displacement (About 0,25 M)

Tool Inclinator For High Transverse Gradients: This Will Enable Following The Profiles Of Very Irregular Soils, Steps, Etc.

On/Off Operation Control Of The Hydraulic Equipment With Integrated Flow Regulator

Tool Operation On/Off Control With Incorporated Flow Regulator

All Working Functions Are Performed By Means Of A Specific Mechanical-Hydraulic Distribution, As An Alternative Through An Electro-Hydraulic Distribution With Comfortable Joystick To Be Inserted In The Control Cabin.

Besides, It Is Equipped With Trestle For Garaging.
Technical Data:
Ø  Compass Shaped Front Tools Holding Framework
Ø  Three Regulation Hydraulic Movements
Ø  Positioning Wheel
Ø  Push Drive On Floating Device
Ø  Advancement Speed 6-10 Km/H
Ø  Quantity Of Oil Needed About 30 L (With Mower)
ØWeight: 80 Kg (Only The Tool Holding Frame Without Tools)