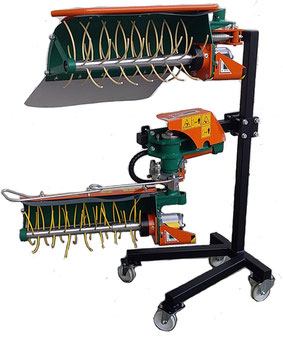 Tool for the mechanical-hydraulic weed removal, designed to remove the weeds around the plants, in orchards and vineyards.    
This assembly was designed to be fitted to suitable frames, on both the front of the tractor, in single, bilateral or tunnel version, and in lateral position in single or double versions, with specific flanges or to the universal rear hoist of any tractor, with special support frames, for the use on the left or right side.
Besides it was designed (to be easily fitted) to substitute the blade (mod. Rapid-Lam) working between the rows, this tool is used for the mechanical weed removal, under the grass substrata (maximum 7 to 8 cm depth) between the rows, during the summer with dry soils, not to have a rapid start of the grow of the weeds.  
We designed this tool with the aim of proposing an medium/low investment, since the user will have at disposal two tools on a single frame, so being able to manage tall stages of the production cycle of the plants, the weeds under the vines, without being obliged to use chemical product proved to be extremely polluting for the environment.
The mod. Turbo-Bas Eco2020 mechanically operated mechanical whip weeder will be used mainly at the beginning of the season (from February to June), later on you will use the blade (Rapid-Lam).
The interchangeability of the tools and the different types of work enable managing the soil under the plants easily and successful for the whole season until the harvest.
Moreover, the extreme compactness and the lightweight of the equipment with a height a slow as only 30 cm ensure the possibility of working on the most diverse soils and in rows with various training methods (Guyot, low spurred cordon, etc.) and on slopes with both vertical and horizontal rows.
With simple anchoring brackets, it can be applied even on small, light and narrow hydrostatic cultivators or on tine harrows, flail mowers, etc.
In the end, the mod. Turbo Bas Eco 2020 mechanical weeder with whips, without the tunnel system with hydraulic feeler, can be substituted with a simple spring movement, certainly more economical, yet slower during the straddling operation
The whips are made of a special, soft and wear-resistant polyamide copolymer (nylon).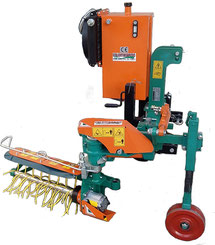 EXEMPLE OF MOWER MOUNTED ON TOOL SUPPORT