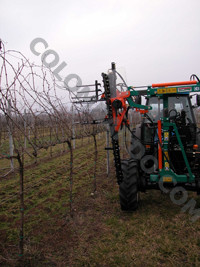 POTEL-TRISCOL PRUNING MACHINE
The Potel-Triscol pre-pruning machine derives from the "Potel" trimmer, a machine with cut obtained through a cutting bar acting in vertical with respect to the row (1.70 m L, standard version), to be used for the pruning of the summer vegetation of the vines, with a chassis allowing the insertion of two horizontal blades (about 0.80 m L, standard version), in feathered position for the pre-pruning of the vines during the winter on vineyards grown in simple curtain, spurred cordon, GDC.
Designed to be positioned on the lateral front part of every type of tractor through a suitable plate. The assembly and disassembly are facilitated by a trestle supplied with the equipment. The operation of the machine is completely hydraulic and is obtained through the hydraulic power outlet on the tractor or, on demand, through a hydraulic central assembled on the hoist. The movements of the machine can be controlled from the driver's seat through a 5-lever distributor: the first one, featuring an anti-shock safety system in compliance with the safety rules, has the function to operate the cutting bars; the second one adjusts the working heights (stroke of about 0.65 m); the third one guides the lateral displacement (stroke of 0,50 m); the fourth one controls the inclination of the cutting bar (+ 38°); the fifth one is available for further controls on demand. "Potel-Triscol" has an approximate weight of 160 kg.
For further information you can download the complete catalogue of the Cutting pre-pruning bar.