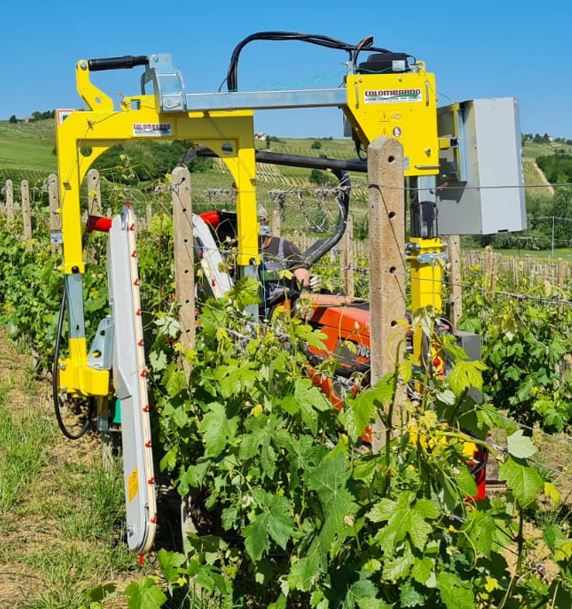 DOUBLE – PALIZZELKLIN GREEN WIRE LIFTER
For the trellising of the summer vegetation of the vineyards with espalier training (Guyot – low spurred cordon)
On this model the lengths of the shoot conveying belt can be varied and fitted to the optimal period of intervention. The special shoot collecting belts convey the shoots upwards without damaging them; the speed of the belts can be regulated according to the advancement speed rate.
On flat soils it is the possible to reach an advancement speed rate of 8km/h. Thanks to the rounded and compact shape of the shoot conveying parts, the equipment can be adjusted simply and rapidly. Magazine containing 400 rapid intrusion metal staples for hydraulic-mechanical fastener comfortably positioned on the Joystick. The machine is built on a sturdy mechanical frame of tubular steel which makes it elastic and light allowing its use on sloping grounds with transverse gradients up to 30%. On demand, the machine can be supplied also with automatic fastener with 5000 staples. The application of modern technologies gives the machine lightness and remarkable levels of stability; this allows fitting it on small tractors with the possibility of working even in vineyards with high transverse gradient.
The PalizzelKlin wire lifter is constructed according to a modular principle allowing obtaining the configuration required. The basic model is equipped with electronic and hydraulic predisposal for future fitting of the top for the cut of apical vegetation, tunnel trimmer and roller pre-pruning machine.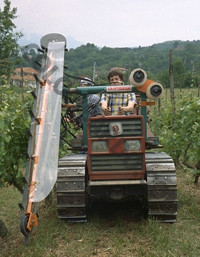 PALIZZEL WIRE LIFTER
Machine for the lifting and tying of the green shoots of the trellising with low fruit-bearing shoots and ascending vegetation.
The machine operates at one side of the row, lifts the roots delicately guiding then in vertical position and tightening them with one or two ropes constantly tightened during the advancement and fastened to the wire of the row with mechanical staples closed with a pneumatic or mechanical fastener operated by hands by the operator transported on a platform mounted on the hoister of the (tired or tracked) tractor.
For further information you can download the complete catalogue of the Wire Lifters.